We sat down with Mrs Sher-li Torrey, Founder and Director of [email protected] and Co-Founder of Careers Navigator SG, to find out more about what [email protected] aims to achieve. Having managed [email protected] for the past nine years, Mrs Sher-li Torrey's deep understanding on the dynamics at play between women, motherhood and careers is not confined only to Singapore. We jumped at the chance to learn more about what she had to say about motherhood and careers in Japanese society, and what she envisioned mothers returning to the workforce would be like in the near future.
Mrs Sher-li Torrey : A mother to two children and inspired by motherhood, Mrs Sher-li Torrey set up [email protected] in 2010, a portal for fellow professional mothers like herself to find flexible working arrangements, skill-upgrading workshops and career fairs in a bid to help mothers achieve a better work-life balance.
-Could you tell us more about Mum[email protected]?
[email protected] aims to help women find a balance between being a mother and working. There are three parts to how it works. The first is working with employers that provide mothers with flexible working arrangements.
The second is supporting what we call Mumpreneurs, mothers starting a small business from home. We have about 3,000 Mumpreneurs amongst our 40,000 members and [email protected] also sets up a closed Facebook Page, which forms a peer-helping community where they can learn from one another. We also help them in for example marketing, or hold workshops for them, where we sometimes engage business coaches to share their expertise.
Lastly, we also focus on helping mothers return back to work after a career break. For example, we will hold career fairs for mums only or work with some of our partners to develop hiring programmes and initiatives that focus specifically on hiring mothers or female caregivers, particularly those with a career gap of one year and up. We also run the Jumpstart Program where we help women re-integrate back into the workforce after a long career break, by for example working with their employers and co-workers. With selected corporate partners, we also co-run Return-ship Programs that focuses on mothers returning to work or career transitioning who want to start off with an 'internship' arrangement before committing to a full-time role
Some of our partners include Google, Mastercard, Singtel, and Citibank. We have worked with Facebook, for example to help train women, where they have their hiring managers give small workshops and conduct mock interviews for mothers. With Google, we ran a #iamRemarkable workshop and sharing session to empower female talents.
Also, all our team members (executive members) are mothers themselves, which is something we insist on, because we have all gone through a similar experience and understand the challenges trying to balance working and being a mum at the same time.
-What do you think about the working culture in Japan with regards to women?
Actually in Japan, due to an aging population, there is an increasing need to get women back into the working space. Companies recognize this. I was also invited by companies such as J&J and other firms in Tokyo, to work on projects that support the hiring of women back to work. But it is not easy, and this is not just in Japan but in Singapore as well. Mothers who have taken a career break find that the biggest problem getting back to work is that they lack confidence.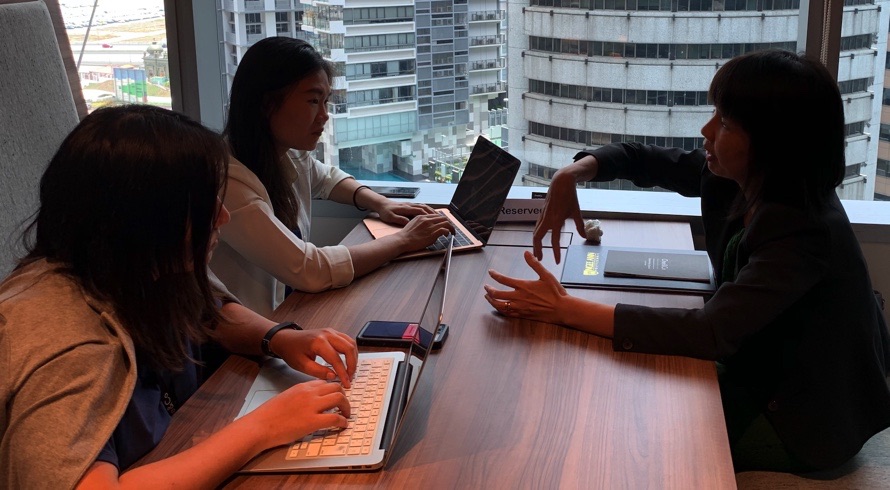 -What do you think about the identity of being a mother and a woman? For example, in Japanese society, the status or image of a housewife and mother has been said to be elevated or more highly recognized compared to countries like Singapore.
Yes, you might be able to say that the maternal identity is stronger than the work identity, but it is actually the same in Singapore as well. The thing is, caregiving is seen as a respectful thing, even by men in Japan and Singapore. You will hardly hear people say that raising your kids well and caring for your kids is not a respectful or successful thing. To some extent, the success of women and their achievement is still judged by how well their children are doing. Put it this way: You can be a mother who is very successful in your career, but your children or things at home are not doing well, you will not be seen as successful. I am not trying to champion feminism per se because when it comes down to it, it is not all an equal rights thing as women and men are just biologically different, and childbirth is something that does affect women. It is a fact. It is not possible to do both (being a mother and having a career) super successfully without any help, but everything lies in flexible working arrangements. I have husbands and Japanese friends telling me they want their wives to have the option of going back out to pursue their own interests as well. Which is why we aim to help mothers bridge that gap. In fact, for the Japanese society, the Mumpreneur option as a career, might actually work best.
-What do you think then is the future of getting mothers back into the workplace?
The future of getting mums back to work lies in flexible working arrangements. It is not just because of an aging population, but because of how the younger generation thinks and works as well, so society will eventually have to cater to them. This is a global thing and it is not going to be possible to stop the momentum. It is also why you see the concept of co-working spaces so well received. The line between work life and personal life is also now easily blurred due to how connected we all are (to the web and each other by extension). People are receiving and replying emails even on weekends for example and so if that sort of work is constantly coming, then flexible work arrangements must follow. Traditional work structures will have to change.
Also, a sense of control is worth money. When people have more control (over their time with regards to work), they value it strongly. Compared to a higher pay with rigid work structures and hours, there is value to flexibility.